We encourage you to reproduce and distribute our brochure, fliers, etc.




Get clothing, buttons, bumper stickers, magnets, mugs and cards promoting a consistent life ethic at the CL Online Store


action ideas



We're always looking for creative ideas, so if you have them, please send them in to info@consistent-life.org.

Member groups are invited to send announcements of their own upcoming events so they can be added here (and mentioned in our weekly e-newsletter, Peace and Life Connections). Send to weekly@consistent-life.org.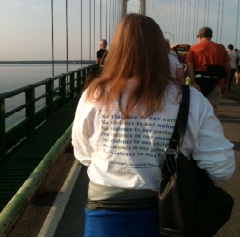 Individual Actions Wear t-shirts and buttons in appropriate places; use bumper-stickers and yard signs.

It can be a great conversation starter or a needed witness. Find messages in various formats at our on-line store.

Write Letters to the Editor and Comments on Blogs

Letters and online comments are among the easiest and cheapest methods we have for educating the public. Short messages with just one point are more likely to be published and more likely to be read. A more detailed how-to guide called "Writing Wrongs," aimed at the death penalty but useful for all issues, is available online.

Leaflet

With specific groups or to the general public, we offer a variety of leaflets suitable to different occasions. You can download suitable ones and print as many as you need for passing out or setting on tables.

Organize Discussions

Students and instructors can encourage classes to hold discussions about peace and life issues and how they are connected. If you belong to a book group, suggest one of our recommended books. If you are part of a faith community, organize discussions about life issues for your social justice group. (If in a Catholic community, work to connect the social justice and respect life committees and activities in your diocese.)

See downloadable brochures and recommended books that can help with this.

Get Books into Libraries

See that your library – public, private, college or university, religious institution – has as many of our recommended books as they would be willing to have. Suggest they purchase or, if they allow and would keep them, donate the books.

Join Your Local Single-Issue Groups

Local groups will let you know more about good local events they sponsor that you can participate in, or bad local events that should be in the news to which you need to respond. In addition to being good in itself, this can give rise to informal occasions for discussing the connections or how helpful consistency is.

When meeting and working with your colleagues in a single-issue group, you can wear CL buttons and/or apparel, and bring handouts.

Contribute to Wikipedia

Look for opportunities to edit or add material on Wikipedia.

Are you Fluent in a Language Other than English?

We are looking for people to translate our material into other languages. We already have some material in French and one article in Chinese, but we need any language that our supporters can speak fluently.



Group Actions Multi-site Witness

Some groups have organized marches and rallies to take in several sites: local abortion clinic(s), local military site(s), and a site with a connection to the death penalty. This visibly connects issues of killing and can be presented to the press and the community that way.

Sometimes groups will take a demonstration on one issue that is already well-planned and add on their own march from their presence at other sites, such as going to the local abortion clinic protest and then marching over to a large peace rally, or protesting at a local nuclear-weapons facility before attending a major march against abortion.

Bring in a Speaker

Work with your peace, pro-life, and social justice organization(s) to bring in a speaker and/or hold workshops and discussions on connecting life issues. See our speakers list if you want to bring someone in, and also consider local talent.

Show a Video

Our main video is online on our web page, and we also have a variety of videos on our YouTube channel.

If you have a video that should be added to our YouTube channel, please let us know at info@consistent-life.org.

Conference Participation

Having literature tables and presenters at conferences is one of Consistent Life's major activities. If you know of a conference we might like to cover, and especially if you would like to volunteer to help cover it, let us know at info@consistent-life.org.

Hold Your Own Local Conference on the Consistent Life Ethic

This is of course an especially ambitious project, only to be done by those willing to put in a lot of work. A local conference that lasts an afternoon or a full day can help with educating and especially with networking, and getting the creative juices flowing in a group can generate further ideas of action.

Letters and Calls on Policies

On executions, the upcoming ones in the United States are listed here and here, so writing or calling the governors of their states helps them know there is widespread opposition (including from other countries, if you're not in the U.S.)

For federal issues in the United States, the U.S. Congress has a Capitol Switchboard number: 1-202-224-3121. This can get U.S. constituencies to their Representatives and Senators.

For individual states and for other countries, most governmental representatives will have a web page to give contact information. Calls to the local office of representatives sometimes stand out more, especially if you have something more substantive to say than "vote yes" or "vote no." Conversations with staff people can be quite illuminating for both you and them.



Actions at Election Time "First they ignore you. Then they laugh at you. Then they attack you. Then you win." As this classic saying sums up, activism often seems like it's not making a difference until about five minutes before victory is in reach. For those who believe in a consistent ethic of life, election season can be particularly frustrating—in most elections, not a single consistent-life candidate is to be found.

Nevertheless, election season offers a key time to make the idea of a consistent ethic of life better known in the public sphere. While most candidates in a particular election will probably not embrace it, having to answer a question about the ethic gets it out there in the public imagination, where it can be heard by more people and where its innate moral consistency can start to work into the public consciousness.

Remember, you are not endorsing a candidate—you are politely challenging them, and other listeners, to make progress toward consistency in opposing violence. Commend them for where they already oppose violence, and challenge them to consistently oppose other kinds of violence on the same principles.

Adopt a Consistent-life-ethic Slogan During Election Season

"I'm a pro-peace, pro-life voter. Where are my candidates?" (this one is on one of our bumper stickers) or "I'm a voter who cares about all life. Where are my candidates?" or "Support the Consistent Ethic of Life." Make the slogan your email signature, tweet it, and post in on your Facebook page.

Write a Letter to Your Local Paper and Comment on Local Blogs

You can use the occasion of an election—particularly statements and appearances by a candidate—to get the word out. Keep your letter short (about 200 words), give your connection to the community, thank the candidate for her or his positions that support life, and ask a pertinent question about where the candidate does not, trying to work the phrase "consistent life ethic" or "consistent ethic of life" into your letter. Pay attention to comments recently made by the candidates, because that's a news hook that makes publication of the letter more likely, it makes the candidate more likely to pay attention since it's feedback, and it contributes to an on-going local dialog.

Ask Candidates Questions

Find out when candidates are having town meetings or other appearances where they will take questions from the audience, and keep showing up at them (a practice sometimes called "bird-dogging"). Be prepared to ask your two-sentence question, tailored to that candidate's positions and comments. Remember that it will probably take persistence to get to ask your question—you may not get called on at the first appearance or the second. Wearing a shirt that prominently displays a consistent life ethic slogan and sitting in the front row where TV cameras can see you is also a good approach at town meetings.

In addition to public appearances, tweet directly @ candidates on their twitter pages or add posts/comments to their Facebook pages. With Facebook posts, make sure the key point of your post fits in the first three lines. (Also, save screen shots of your posts, in case they are removed later.)

Tell Friends

Don't just do all this by yourself: get friends to do it too!

Inspire the Consistent Life community with your actions. Write to us at weekly@consistent-life.org, post on our Facebook page, and/or tweet us @consistentlife and let us know what you're up to.